Backcountry Skiing the Uinta Mountains / Notch Mountain
Backcountry Skiing the Uinta Mountains Notch Mountain is awesome  Both the West and East Notch have amazing skiing.  They are both Big mountain skiing with no easy way up or down.  If I had to choose between the Notches, my vote would be split right down the middle of the Notch. I'd ski both!
Backcountry Skiing the Uinta Mountains Notch Mountain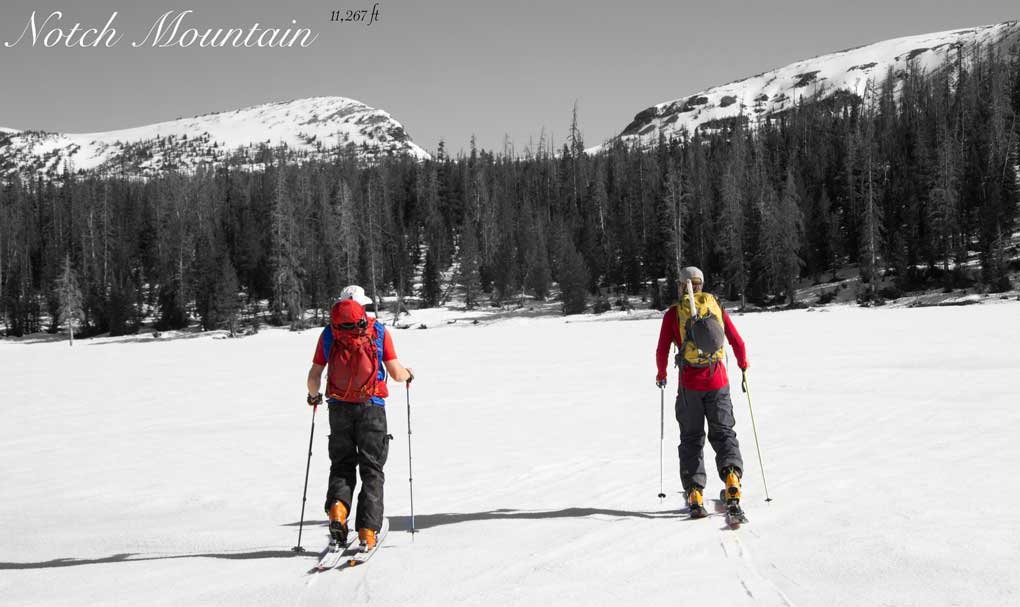 Skiing
The skiing on Notch mountain is consequential.  Miss your chute and get cliff'd out.  I recommend taking a photo on the approach to review from the summit before skiing down.  Once you drop in, the slope in front of you rolls over at an angle that you can't see over.   Oh mamma pie, this is awesome skiing!
The East Notch (lookers right) has thin strips of snow that slot through the rocky bands.  Off the backside (North) East Notch is nothing but huge cliffs, only suitable for mountain goats.  The West side (lookers left of right peak) has 1 skiable line.  This line is the grand prize, East Notch West Chute!
The West Notch (lookers left) has more skiable lines than it's other half of Notch mountain.  The West side of the mountain (lookers left) is where you want to go if you're looking for moderate ski terrain.  The Northside has 3 challenging chutes.  You can locate them from the summit.  Don't be intimidated to ski off this side of the mountain.  It's easy to get back to the frontside if you skin over the notch.
access
There are two access points for Notch mountain.  1.  You can park your car atop the Pass and skin in to the West past Baldy and Reids peak.  2. Park at the Trial/Washington lake and take the Notch mountain summer trail north toward Wall Lake.   Once you arrive at Notch mountain go to the middle of the notch.
As always I take my photography seriously see the Notch Mountain photo Gallery 
Related Articles and links:
If you like this sort of stuff, Like us on Facebook
Park City People YouTube
Trip Photos
* Backcountry Skiing *